The appearance of these defects is fundamentally due to the use of Low-quality adhesive materials: PVB. Because of this, some products in the market are more vulnerable to:
Temperature changes – Causes expansion and contractions of the polycarbonate layer, which ends up letting the air in.
High relative humidity – Added to high temperatures accelerate the detachment process and could cause the appearance of fungi on the glass edges.
Material degradation – The passing of time accumulates the effects of degradation.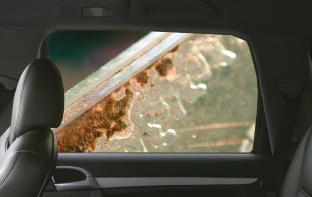 Delamination
It is the separation of layers that make up the armored glass. It means that air has been able to penetrate between the layers and a detachment process has initiated. Delamination signifies a lack of adherence between layers. It is an irreversible process that affects the general appearance of the vehicle reducing originality and ballistic capacity.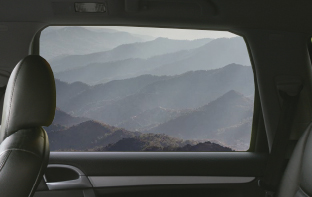 Haze Effect
The haze effect is the cloudy appearance in the glasses due to reflection of light on the Polyvinyl Butyral, utilized by most of the industry. Some people refer to this as "milky" effect. It represents diminished transparency and visibility, which becomes worse with time and the degradation of the Polyvinyl. Optima products increase the visual comfort and safety of the vehicles.